At Better Earth, we're not just manufacturers.
We are Sustainable Solutions Providers on a mission to make sustainability accessible and regenerative circularity achievable.
We do this by empowering partners across our value chain, catalyzing our plastic-free future through advocacy and product innovation, fostering a diverse, inclusive, and regenerative workplace, creating access within our community, the American Southeast, and reducing our environmental impact every step of the way.   
2022 was a year of growth for our organization. We onboarded more compostable products than ever before. We hired several new team members to support our mission. And we acquired the Sustainable Packaging Division of local packaging provider Meristem Packaging, which provided us with more products, amazing team members and additional distribution capacity.  
In our second-ever Sustainability Report, we invite you to see how our growth has translated into impact and how we're continuing to work towards our lofty goals.  Inside, you'll find all our initiatives organized by our Sustainability Strategy's core verticals and associated United Nations Sustainable Development Goals.  
We hope you enjoy and welcome any feedback or ideas you might have! 

THANK YOU FOR CHOOSING SUSTAINABILITY WITH BETTER EARTH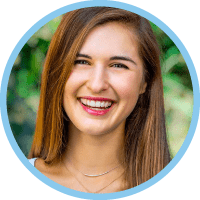 Savannah Seydel
Vice President of Sustainability and Impact
I am excited to spend my time thinking about how Better Earth can reduce our environmental impact and serve as a catalyst for change within our community and industry.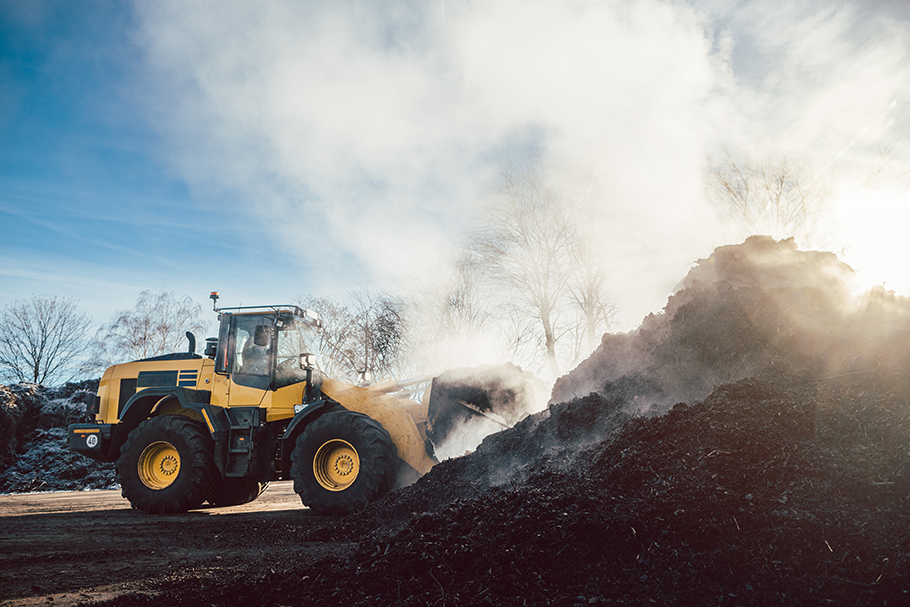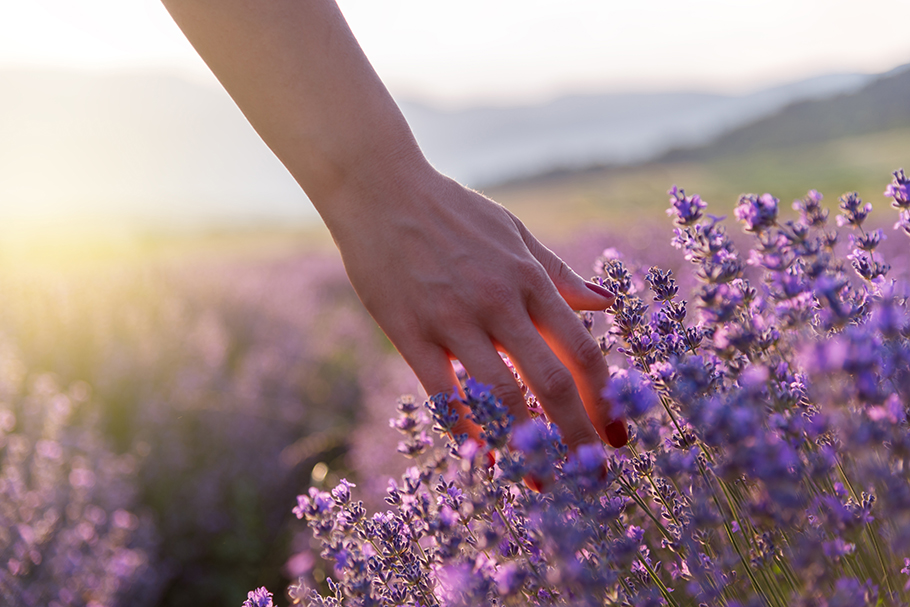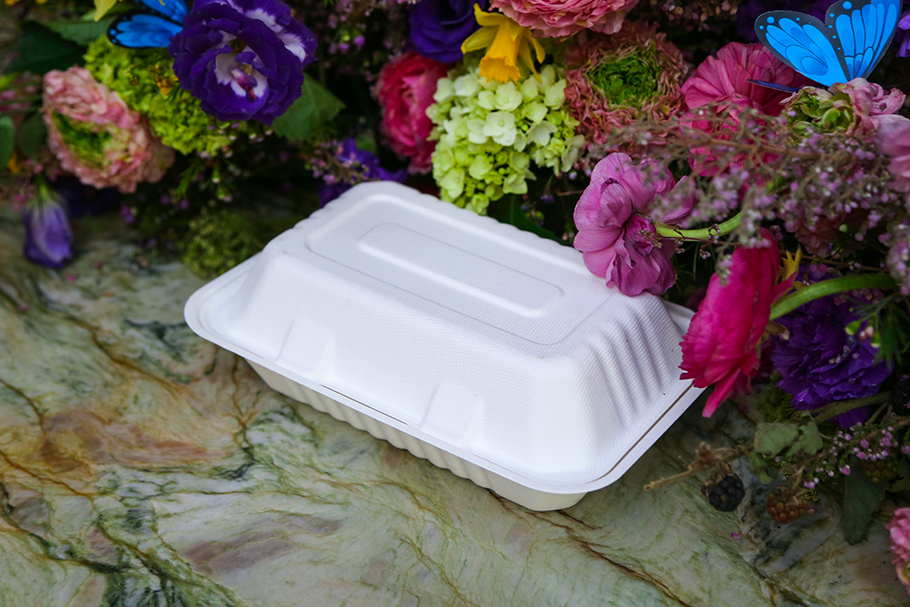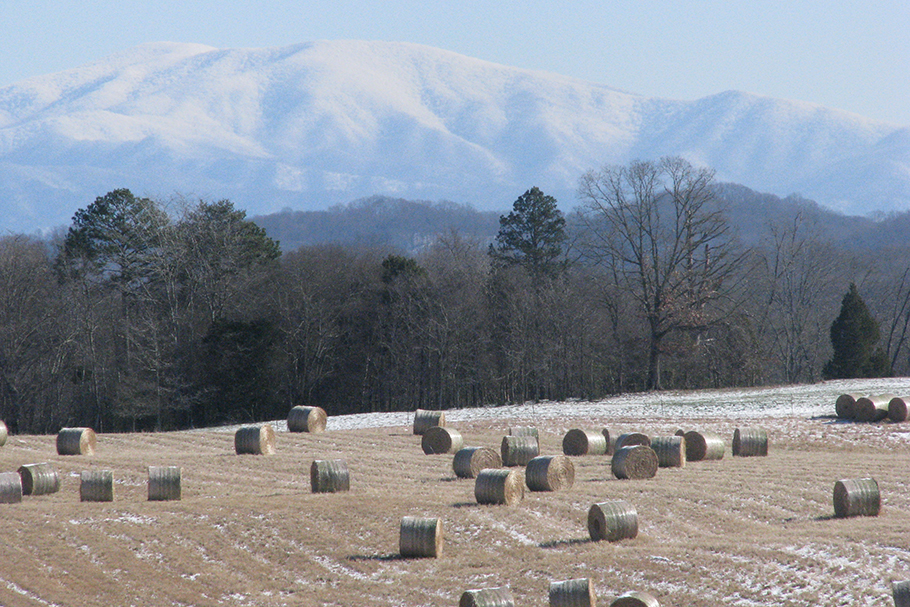 BETTER EARTH 2022 IMPACT REPORT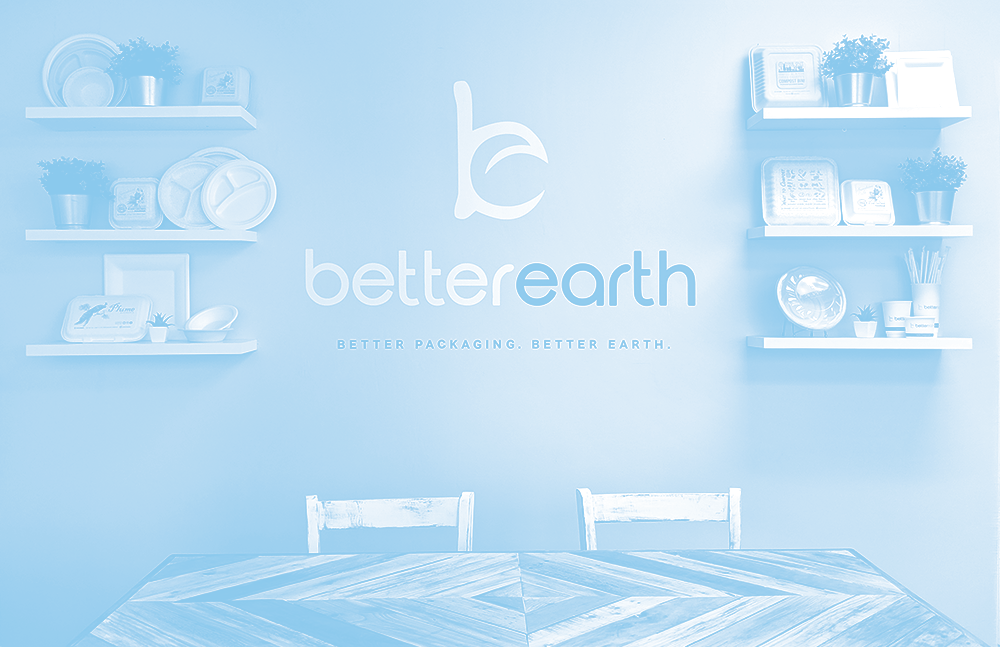 We envision a world powered by a regenerative, circular economy where nothing is wasted, and value is created at every step of the value chain. However, since we still largely operate in a linear world where we still make, take and waste a lot of stuff, education is central to everything we do.  We work hard to ensure our community experiences what a regenerative, circular economy can look and feel like in the real world, elevate the bottlenecks along the way, as well as advocate for legislation that will accelerate this vision.
Atlantans attended closed loop community events where Better Earth provided all compostable packaging and composting was available.
Attendees tuned into our quarterly Compost Conversations webinars, which regularly featured leaders across the composting industry. This was our first year kicking off the series and we're excited to keep it going in 2023.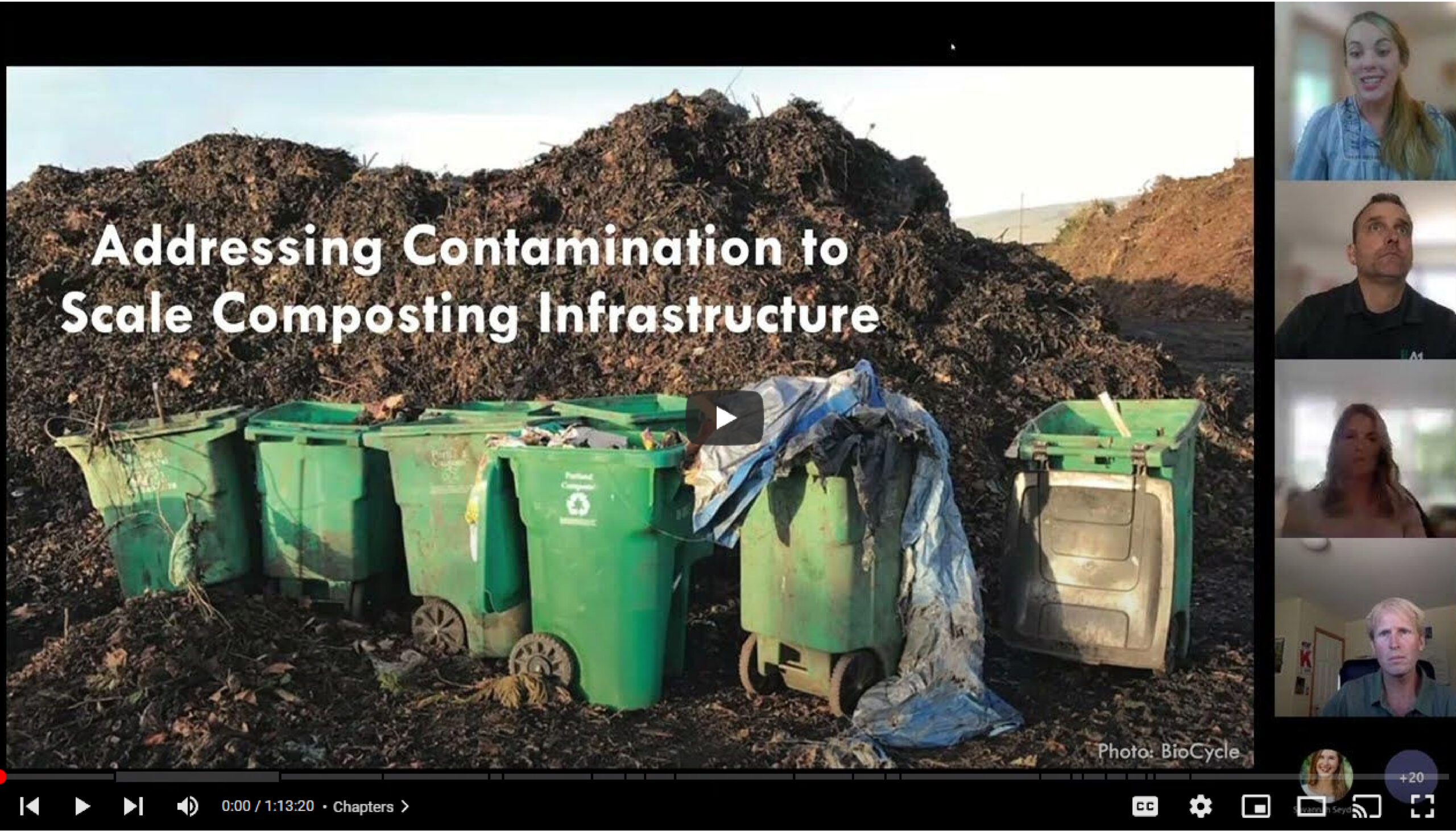 Brokers participated in our first-annual Sustainable Packaging Specialist Program in Atlanta, GA, where brokers engaged in a comprehensive sustainability training program.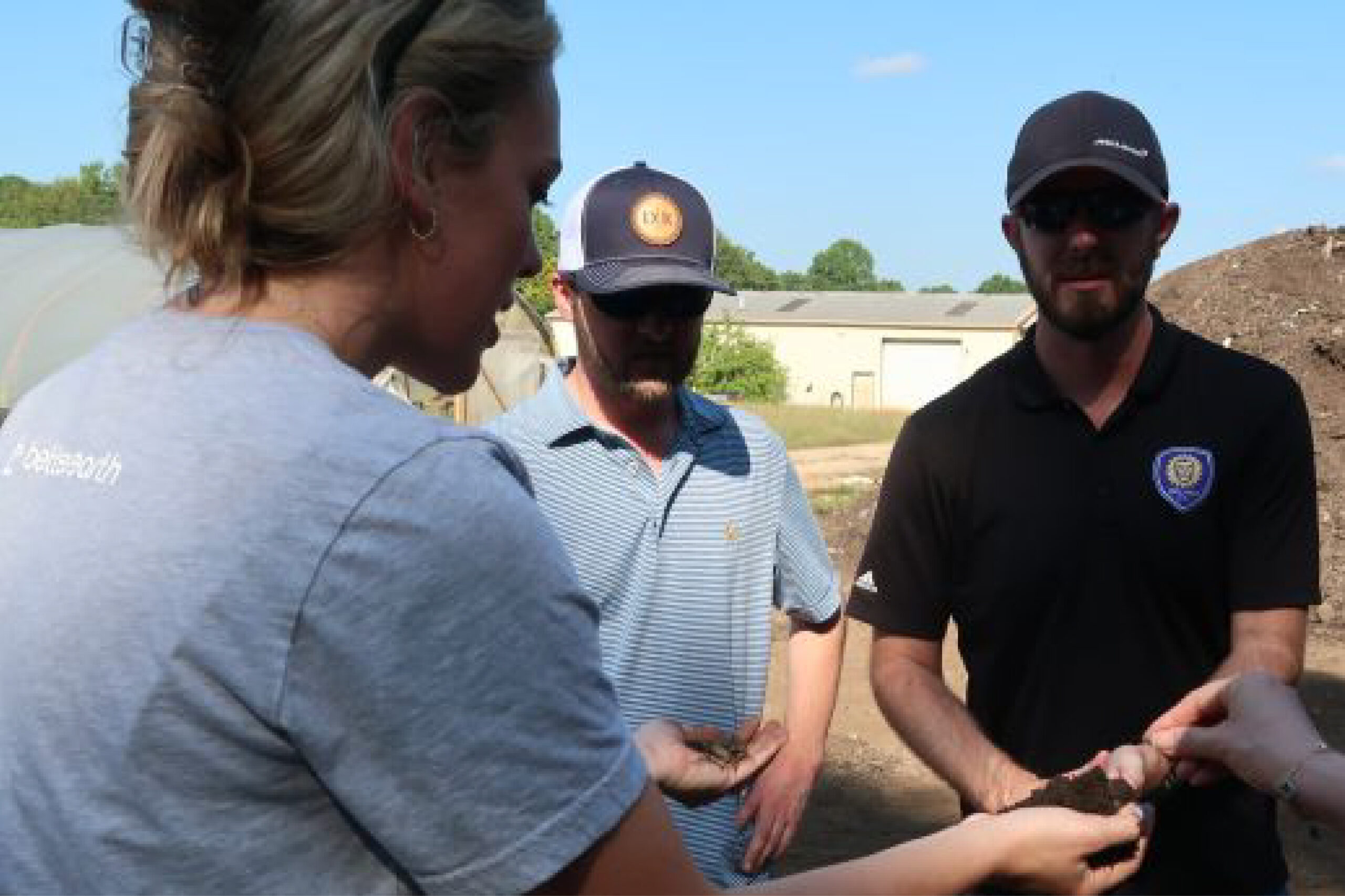 Advancing Smart, Sustainable Packaging Legislation
Policy is a critical and necessary instrument for fostering a regenerative, circular economy. Better Earth is actively involved in following and advocating for smart, sustainable packaging legislation that will advance this vision for our industry and stakeholders from field to fork to field. Here are a few highlights: 
Extended Producer Responsibility (EPR) Bills were center stage. 

California and Colorado passed composter-friendly EPR legislation that will help finance statewide recycling and composting infrastructure development. 

 

Bipartisan waste infrastructure legislation passed the Senate.

The Recycling and Composting Accountability Act (or RCAA) would help Americans finally understand the full picture on recycling and composting infrastructure (or lack thereof) across our country.  The RCAA would require the Environmental Protection Agency (EPA) to collect data from state, local, and Tribal governments.  Better Earth was proud to submit a letter of support. The bill is currently in the House. 

 

Developed our comprehensive Legislation Map.

This dynamic map on our website helps you navigate through all statewide packaging legislation, including single-use plastic bans, EPR bills, and PFAS legislation around the country. 

 
BETTER EARTH 2022 IMPACT REPORT
A lot of hard work goes into our product before they make it back of house at the restaurant. We are extremely intentional in what we do and ensure our values are always embodied in the products we sell. Our product goals include developing innovation that empowers the foodservice industry's transition away from single-use plastics, embracing smarter, safer chemistry, and creating transparency every step of the way.
Total new SKUs launched in 2022, a new annual record for the company.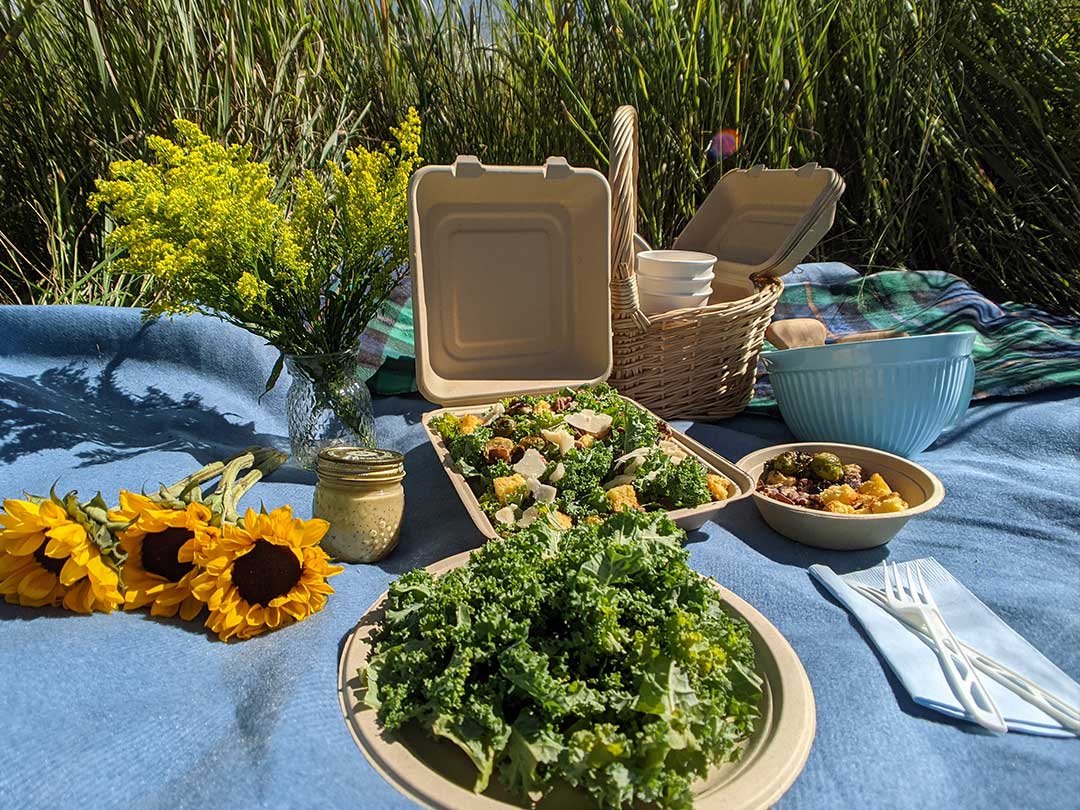 Growth in our PFAS-free offering since 2021.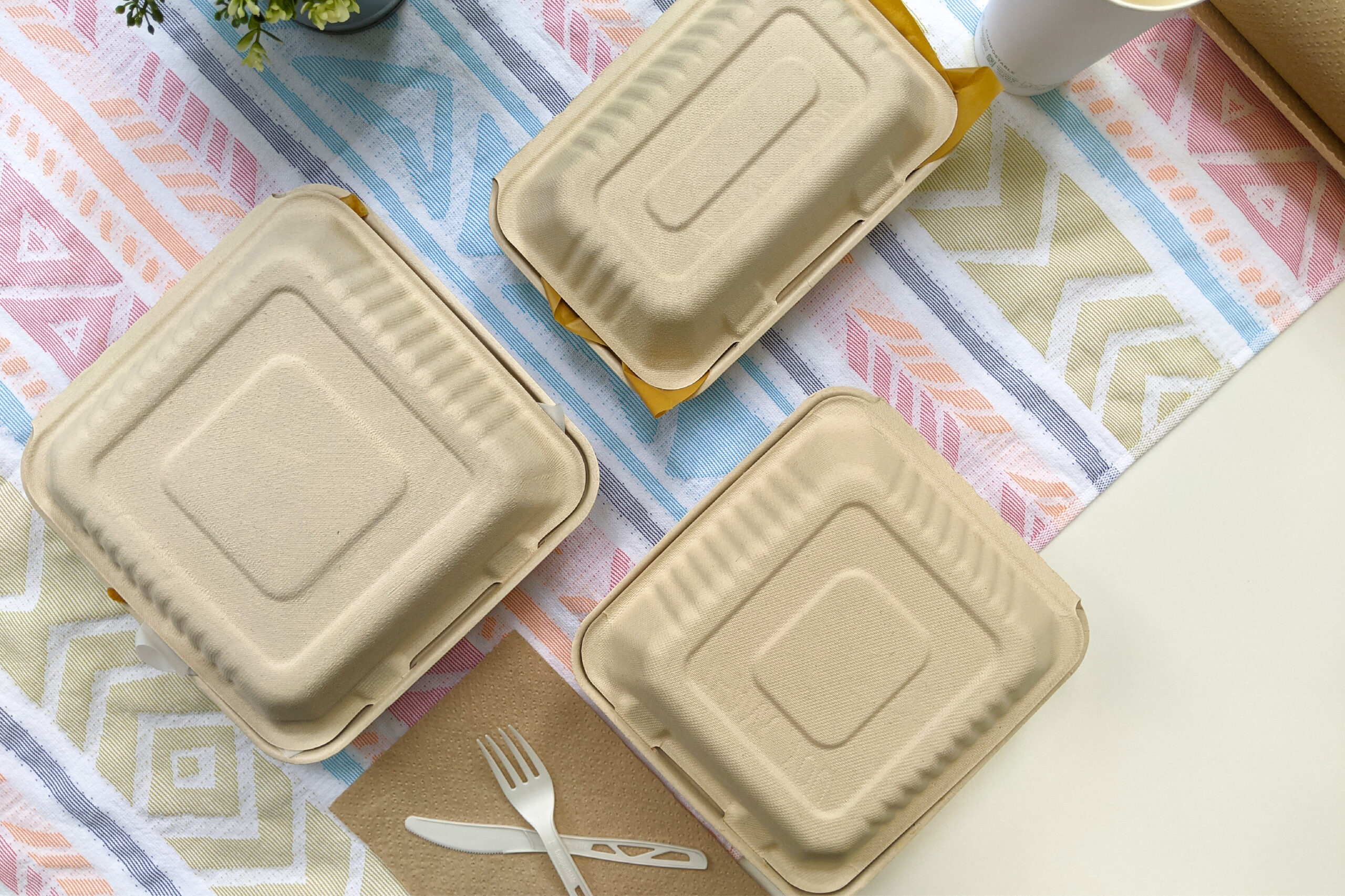 Metric Tons of CO2 In international supply chain emissions offset through the continued expansion of our domestic Farmer's Fiber Collection.*
We are taking major steps in this space, starting with an immediate transition away from PFAS. We have already increased our PFAS-free offering by 113% this year, but we want to go farther. By December 2023, our goal is to source 100% PFAS-free products and we are committed to working with our manufacturing partners to verify and certify the smarter and safer chemistry that we use.
One of the most impactful initiatives we do! Since we typically ship our products in pallet-size quantities to customers around the world, optimizing, right-sizing and reducing our inner and outer packaging has a dramatic and exponential impact on our carbon footprint. This year, we collaborated with our manufacturing partners to achieve an upwards of 50% greater efficiency in case packs across our top product lines, including Sugarcane, Eco-Bamboo and our PFAS-Free Clarion Collection.
*Calculated using Better Earth's 2019 international container shipping emissions averages.
BETTER EARTH 2022 IMPACT REPORT
People matter most. We have big dreams and ambitions, but they're only realized when we start at home and walk the talk. We have institutionalized our mission and values across our organization's culture and systems thanks to our diverse workforce and progressive benefits program. Better Earth is happily headquartered right outside of metro Atlanta in Clarkston, GA, the most diverse square mile in the United States. This ethos is well-represented across the organization.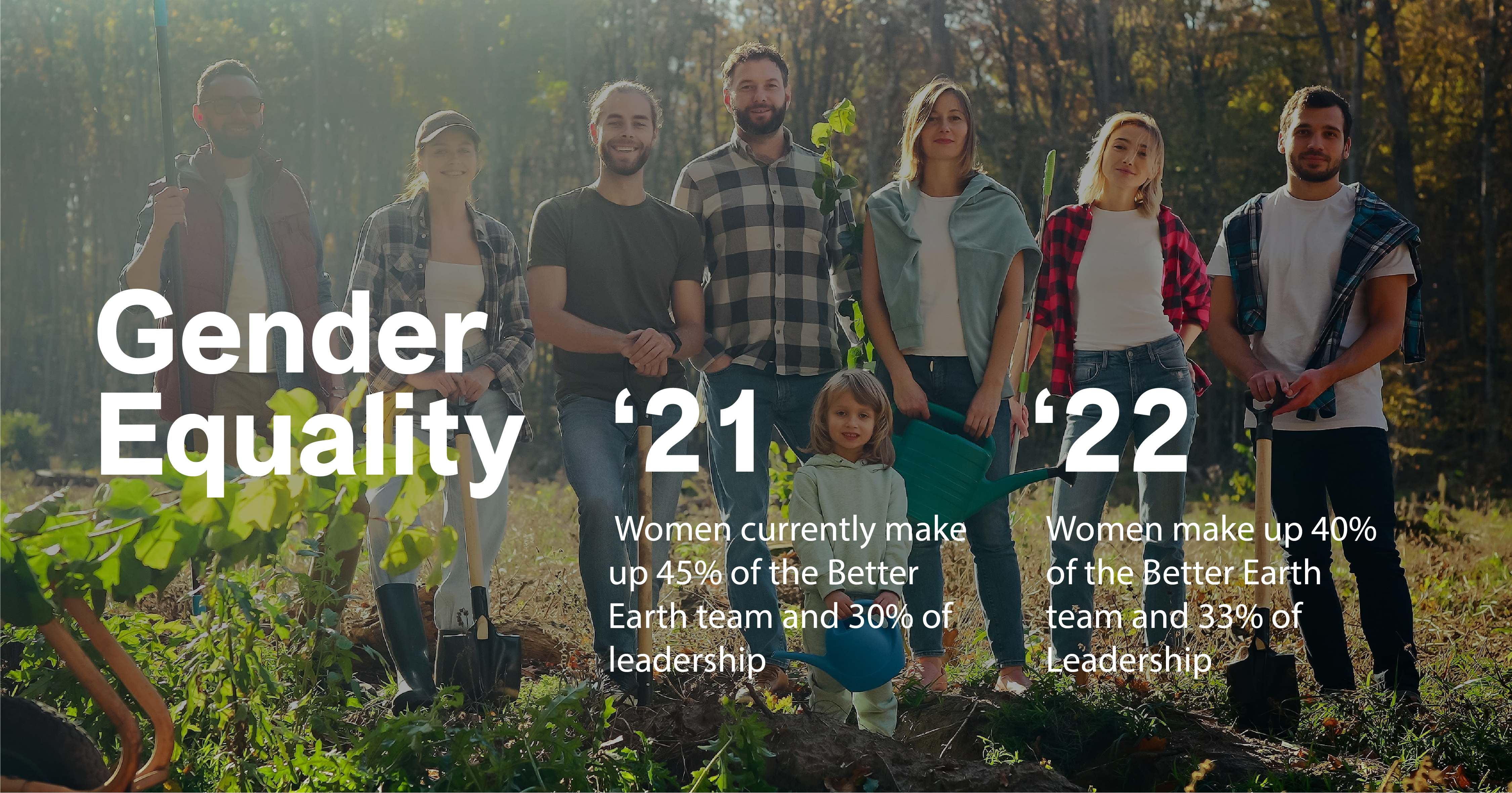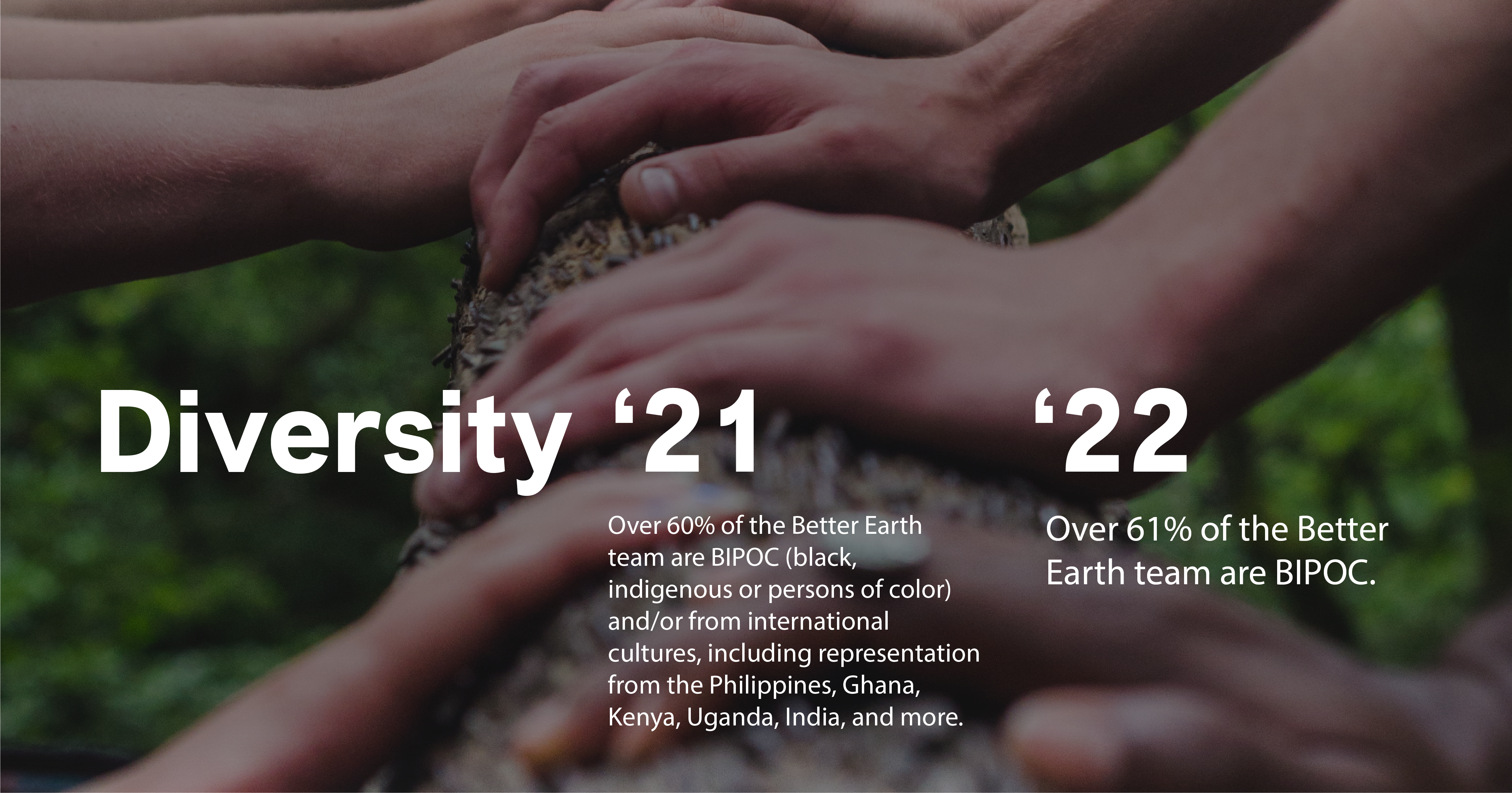 Through intentional recruitment and hiring practices, we seek to grow these numbers to at least 50% female representation and maintain at least 60% minority representation by 2025. 
Fostering a Regenerative Workplace
During the pandemic, we all experienced unprecedented stress, trauma, and grief. This was an collective experience that shook the world, Better Earth included. Now more than ever, we're pushing the boundaries on how we operate and foster work-life balance. 
In May 2020, we joined the global movement to pilot a four-day workweek, which has measurably strengthened our team's health and well-being, boosted efficiency, creativity, and productivity, and helped us realize 30% growth in sales in 2021. We did have to temporarily pause the four-day workweek for Q3 and Q4 of 2022 to manage unprecedented global supply chain disruption but we intend to reinstate the policy in 2023. 

 

We maintain a fluid remote work policy for nonessential employees. 

 

We launched a "Mandatory Time Off" or "MTO" Policy, which was a mandatory day off in addition to allotted paid time off on a monthly basis for rest and recuperation, since most vacations and other special occasions employees used paid time off for were cancelled writ large through the pandemic. We have maintained the MTO Policy on a quarterly basis. 

 

We continue to engage our team and local community whenever possible through community screenings and boothing local events.

 
BETTER EARTH 2022 IMPACT REPORT
Number of states where we've established partnerships with composters, plus Puerto Rico. In 2023, we intend to establish partnerships in all states where we distribute our packaging.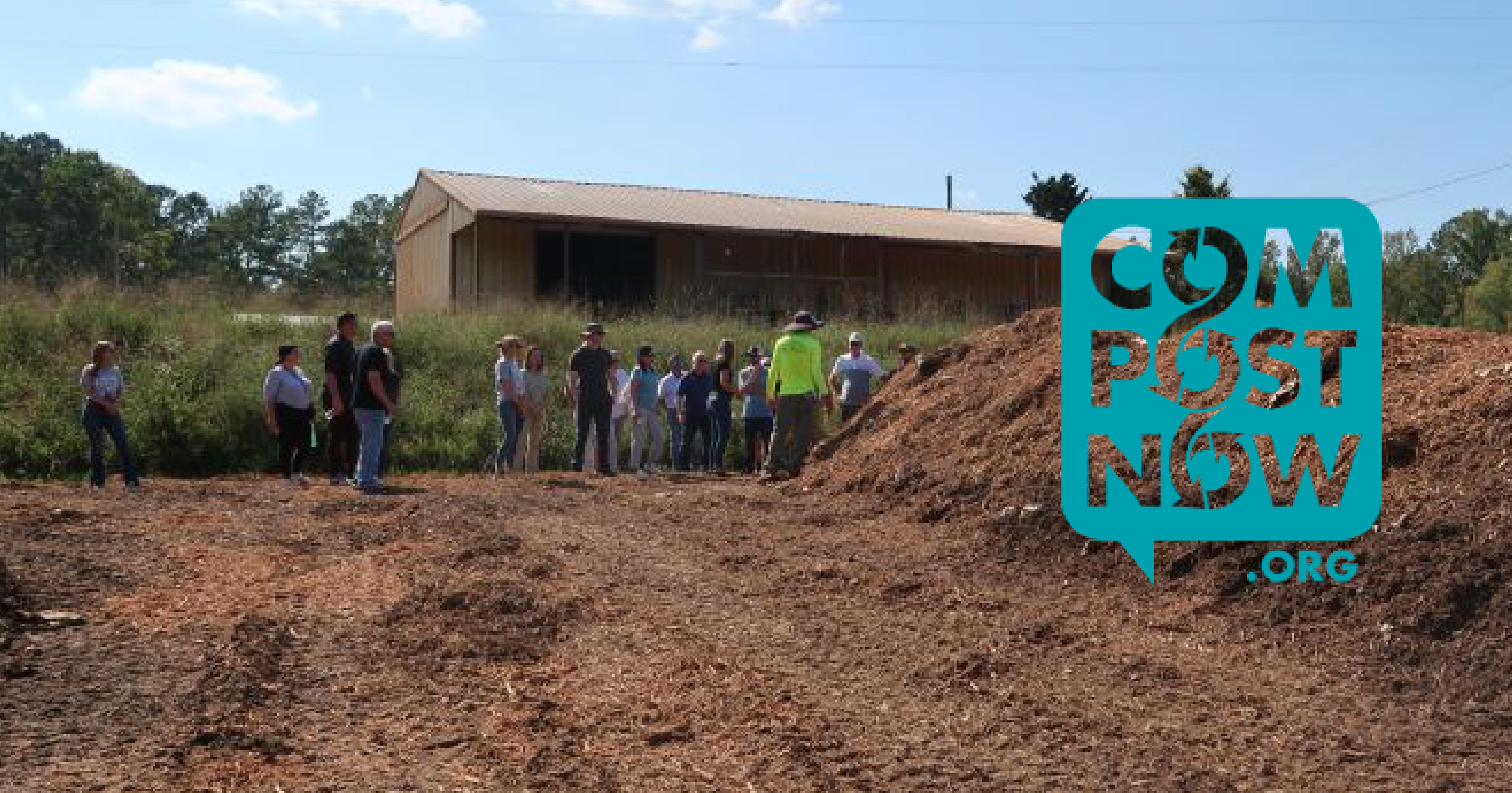 We've diverted over 700 pounds of food waste and compostable packaging from landfills since we partnered with CompostNow in 2019 to compost our onsite office food waste.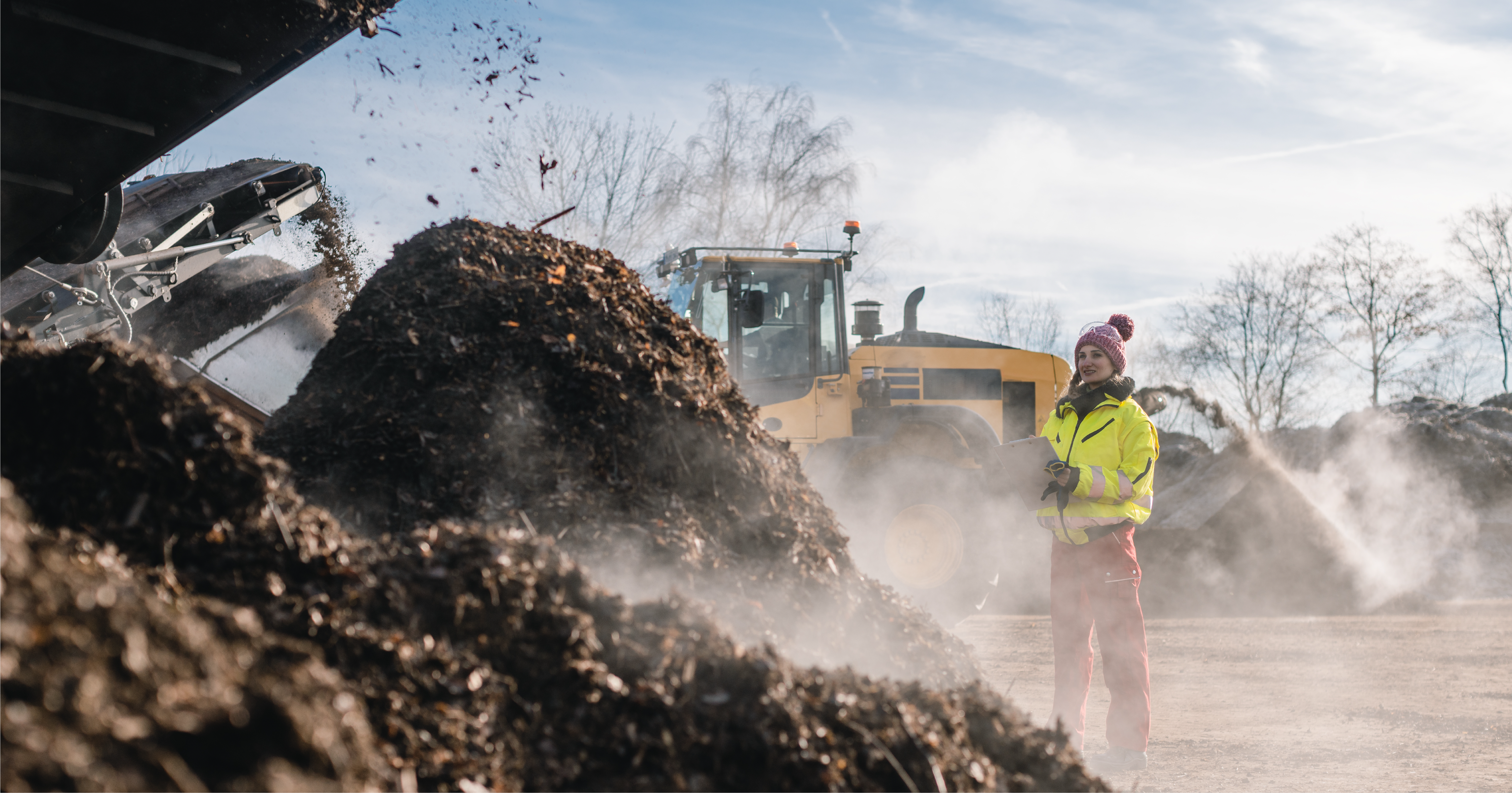 Total Southeastern farmers helping us grow native, regenerative, perennial crops for our domestic Farmer's Fiber Collection.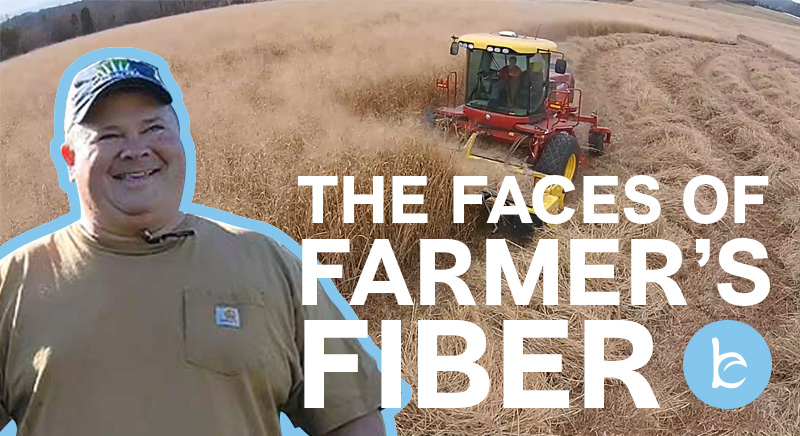 Total Pounds of Food Waste Diverted
Pounds of Food Waste Diverted in 2022
Pounds of Methane Emissions Reduced
Pounds of Soil Created for Local Farms
Onsite composting

in our Clarkston, GA office since 2019 with our partners

,

CompostNow

.

We've since diverted over 700 pounds of food waste and compostable packaging from landfills, including 1

80

pounds this year. Even further, this has helped us reduce our methane emissions by 7

3

lbs

, which is the equivalent of taking a car off the road for

2,0

50

miles, and our compost contributions have also helped create 17

6

lbs

of soil for local Atlanta farms.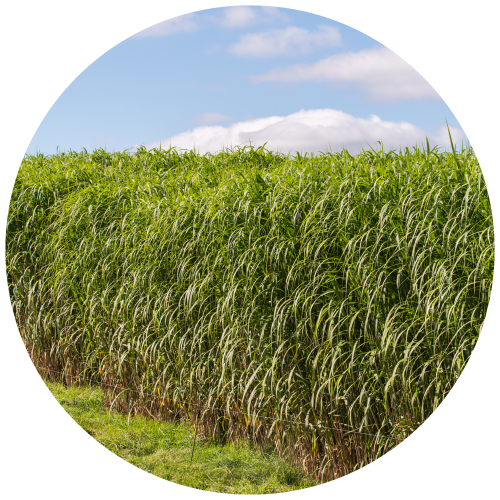 Embracing regenerative agricultural practices

for growing our raw materials. We utilize native, perennial substrates for our domestic Farmer's Fiber Collection, like switchgrass, sorghum, miscanthus, and wheat. These fibers' long roots rebuild soil structure, sequester carbon, and store water and essential nutrients. They can be grown in underutilized, unproductive areas, helping farmers rebuild sections of their farms and rebuild and rewild native ecosystems. 

This year over last, we experienced 2% growth in total domestic packaging sales, leading to an estimated 161 metric tons of CO2 in international supply chain emissions offset. 

 



Building the Sustainable South
Over the past year, th

e

coalition h

osted

two in-person committee meetings to

determine how we will

achiev

e

our collective goal of

net zero carbon emissions in Georgia by 2050 through a just, competitive, and sustainable transition

, and is finalizing specific projects for coalition members to participate in. 

 

Additionally, a

s part of the

C

ompact, Better Earth partnered with team

s

of Georgia Tech undergraduate

and graduate

students

for the Spring and Fall 2022 semesters

to research what the future of a sustain

able

,

circular foodservice packaging system can look like. 

 
Alignment with the United Nations
Sustainable Development Goals
In 2015, world leaders agreed to 17 Global Goals (officially known as the Sustainable Development Goals or "SDGs"). They believed we can realize a better earth by 2030 by ending poverty, fighting inequality and addressing the urgency of climate change.
It's a vision we share. In fact, it's in the name. At Better Earth, we take pride in thinking globally and acting locally. Aligning with the United Nations Sustainable Development Goals has helped us define our Sustainability Strategy and drive impact and innovation across the organization and our value chain.   
Here are the goals we have embraced and are holding ourselves accountable to. Within the report, you'll learn more about our progress to date against them and vision moving forward.